Super Talent SuperCrypt Pendrive Review
As far as the SuperCrypt goes, you can imagine it's been designed to do one thing, mostly : encrypting data. It definitely has one of the most advanced systems of encryption I've seen out there, one that would even lock you out if you forget your password.
As an usb flash drive enthusist, one of the first things I worry about is encryption, and this baby deals a solid AES 128bit encryption which makes it sort of the best usb flash drive in terms of encryption available for popular demand.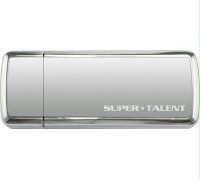 As far as the read/write speeds go, the 32GB flash drive which was tested dealt a pretty good 204 mb sequential/ 15mb 4k random read speed. Well, that's awesome, even considering it is a USB 3.0  pendrive. Now, in write tests it performed even more outstanding, scoring  a staggering 139 mb sequential on the Crystal DiskMark benchmark. If that doesn't have you convinced, I don't know what can.
This is possibly the best pendrive in terms of both encryption and speeds, testing far out other pendrives' league.
The price goes as high as $160,  and that is really a drawback for a pendrive. But, then again, with this one its really worth it.