Toshiba Encrypted USB Flash Drive with Built-In Keypad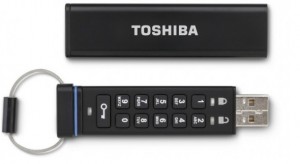 As you may know, USB Flash Drives are not the best choice for transporting your corporate and official secret data; only if you are called "Sony Pictures" and this should be the most favorable option. But from now this can be possible. We present Toshiba encrypted drive, which look entirely like a portable digital safe data. It has a keyboard added on it, as you may see in the picture above.
The encryption of the most USB Flash Drives from the market are based on a software that provide the encryption process.. Using this type of encryption, you are forced by circumstances to install an application on your computer, to have the possibility to access (read, edit, copy-paste) the files from your USB drive.
But if you need a drive that could give you the security of your files (without installing any additive unsafe software), the answer is Toshiba's Encrypted USB Flash Drive with Built-In Keypad. All that you have to do is to set your PIN for locking your corporate data. Now, everything is done. Only the person who knows the PIN can browse in your top-secret data. Everything is secured, due to the "Military-grade" with 256 bit encryption.
Why Toshiba Encrypted USB Flash Drive with Built-In Keypad could be the best option for you?
It may be possible to lose your USB when you walk outside, in a pub or everywhere else, but due to your Toshiba Flash Drive, your secret PIN will give you the assurance that your personal data can't be accessed. Even if someone will try to crack your PIN, after ten failed tries, will make that drive to self-destruct, but not in that funny way you're thinking about. Files stored on your Toshiba USB will be "rendered irretrievable".
The Toshiba Encrypted USB drive will give you a choice between 4 types of flash drives:
4GB, with the cost of $95
8GB, with the cost of $112
16GB, with the cost of $140
32GB, with the cost of $200.
But Toshiba's drive is not just the only option for you. There are other PIN-protected USB, much cheaper if you think those prices are expensive. For example, we propose for you Corsair's Padlock, with the cost of $36 for 16GB and $42 for 32GB. There are also USB Flash Drives that can give you more capacity. Apricorn solution is one of them. For 1TB USB, you should pay something around $20 more than the biggest USB Encrypted Flash Drive of Toshiba.