How to Test the Speed of a USB Stick?
After people buy a USB Flash Drive, one of the things that may come to their mind is: What's the speed of my USB device?
You could choose the option to transfer some files from your PC to the USB Flash Drive and, with the stopwatch, to count the time passing by in this interval of copying the files. But this is a very dull process and it's not even accurate. We don't recommend it.
You can also use a benchmark software, because it will help you to get the information that you want. The test that uses benchmark will be able to give you statistics between the size of your files, reading or writing, etc.
Now we will present you the easiest and most precise way to get the information that you are searching about your USB Flash Drive. We did a research and we found the best free software solutions for you:
First option: USB Flash Benchmark (click here to download or visit their site). It's not just free, but it's also portable. So all you have to do is to click on it and just use it. No installation is required. It uses a very friendly interface, as you may see in the pictures below.
So, let's try to test our USB Flash drive speed following the next simple steps:
Plug in your USB Flash drive.
Choose it
Click on "Benchmark button (D:)"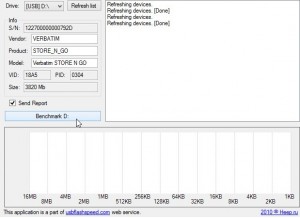 After you finish the test, on your screen will appear all the information about your USB Flash Drive speed. But they will appear in a overwhelming and confusing way. Don't get panic! A pop-up window will provide all the information about your USB Stick - the speed of Writing and the speed of Reading.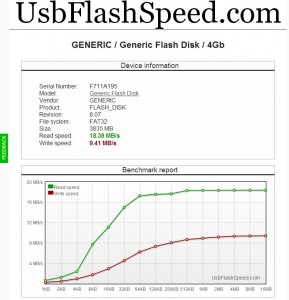 The second great software is called HD Tune (click here to download or visit their site), which is more professional than a benchmark app. With this app you can do: scan for errors, full drive diagnostic utility and you can even test the health of your USB Flash Drive. It is also a free software. And you can get the HD Tune Pro for just 35 bucks.
Let's start using it, following the next few simple steps, one by one:
Install the HD Tune app.
Click now on the Benchmark tab.
Select your USB Flash Drive.
Hit the Start button.
As we may see, the HD Tune app shows you only one number as a result of your speed. It doesn't make differences between writing and reading. The scores of this app are a little bit lower than the Benchmark app score.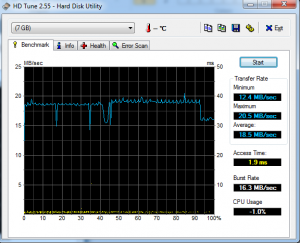 Based on our research, the third option, CrystalDiskMark (click here to download it or visit their site) is the best choice for you. Professional and fast, it gives you all the speed information you will ever need about the USB Flash Drive. The big difference between this app and the others, it's that you can create your own kind of test. So, let's try it!
Choose a file size
Choose the number of repeats for your test (make it personal - choose sequential copying or three random different sizes blocks).

You can download the CrystalDiskMark app, but we must admit that this version will come with some programs that they may be potentially unwanted. We recommend you to install portable version. The funny thing is that the portable version gives you a blank, totally blank, help file as you may see down below.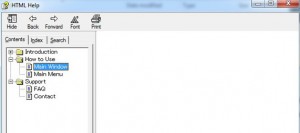 These were our best recommendations for you. However, every time you use any of these apps, remember to select the right drive. When I once tested one of my external hard drive I was so shocked because it was so fast. After a few seconds I was just "Calm down, it's just your internal SSD hard!"