Hack OS X in 60 Seconds with this USB Drive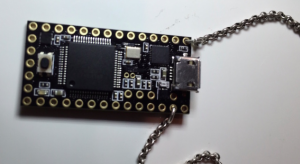 Now it's the time! The crazy man is leaving the room! Connect the USB Flash Drive in his computer/laptop and let the hack do its work. If a bar will appear, it means the code is running and you're on your way to totally hack him!
It's like in the spy movies that you saw. But now, that secret device is in your hand, real and ready to be used by you.
Samy Kamkar - Maybe you already know this big name. He is known for hacking MySpace with a worm in 2006. And the other big project of him when he used a drone to hijack the other drones. The project is named SkyJack. - He already has finished this new big project which we are presenting now for you. Here is his own presentation:
Named USBdriveby, the USB is working like a micro-controller, an exploiter for security issues. It doesn't take more than 1 minute to do all the next crazy things:
In the beginning the program is behaving like a keyboard or a mouse.
Even if you run app that inform you about your network traffic, this USB close all warnings that should appear.
It stops the firewall if your Operating System.
It's changing the DNS with his own settings, to get the traffic of every website you are visiting.
Now it can communicate every info between the hacked device and the hacker's server within an outbound connection. Once that you have an outbound connection, all the router ports changing are useless.
All the it's doing are running with windows closed. It's almost impossible to realize that something "bad" happened to your device.
Short story, in less then one minute the USB drive hijack the device, melting the security, and like a criminal it erase all the traces. It establish an outbound connection between the device's victim and the server. Without the physical need of the USB. This is…. almost terrible and frightening.
Even if in the video the device is presented for OS X, as Kamkar told, you can apply this method extending it to Windows or even *nix systems.
Let me guess. Now you want to know everything about how to protect yourself, right? You can't do almost nothing about it. This is the freaky part. This kind of attacks are impossible to stop. All you need to do is: never leave your device's ports unwatched. Magically repair isn't possible yet.