Lexar JumpDrive S33 32GB USB 3.0 Flash Drive Review
The model we are reviewing today is no different from other Lexar Jumpdrive flash drives. It has an almost identical design, storage capacities define the color of the USB stick and the performances are proportioned with the drives free space. As you can see in the title the name is S33, a 3.0 connection USB memory with a capacity of 32 GB. This device costs 24.99$ and it's able to offer you a pretty decent way of stocking and transfering different files and folders from one apparatus to another.
From the two pictures you can see that Jumpdrive S33 has a hinged design, which will loosen up after a while and won't be able to properly protect the connector. The "protecting" part is green, having printed on the upside the companies logo, the capacity and the interface of the product. A loop, which let's you attach the drive to your key-chain or who knows what, can be found at the back  of Lexar's model. The exterior isn't much…simple, not necessarily bad, but the low quality of the mechanism that unveils the connector should be a big question mark.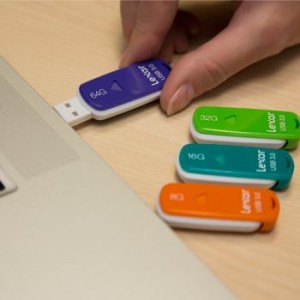 The performance part though is quite impressive. When I tested the drive i was able to get an incredible 114.8 MB/s reading speed and 37.9 MB/s writing, which is better then the one a regular flash drive may have.
Overall, if you want a cheap USB stick with more than decent performance rates this is the product, but if you're looking for something more…long-lasting i would suggest MX Technology ES 64GB.