Corsair Flash Survivor USB 3.0
This Corsair drive has one of the strangest builds I've ever seen. If you've read Henri Charrière's  novel " Papillon ", you will find that this sort of tubes were used by inmates in French internment camps in the Colonies of the XVIII-th century to keep their money safe inside the prison. Through rectal insertion.
All in all, it has a different device : this is something else, as they say. It has an unscrewable cap and it weighs about three times what regular drives do. Also, it is twice as long so its kind of hard to maneuver. But that shouldn't be an issue, since this device looks like it's bullet proof.  With all the weight it's packing, it can withstand tremendous damage.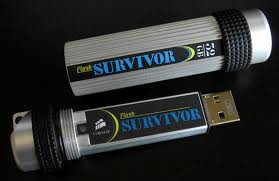 Scoring 73 mpbs with 21 mpbs read/write sequential, it's quite the average in terms of speed, but it looks cool and anyone else but corporate employees which need speed will purchase this one for that reason only.
So, an average drive with an uncommon design. Oh, it also comes with a five year warranty certificate, although I can't imagine what would affect this bulky drive so that it needs an intervention from the manufacturer, except for possible software problems. However, it behaved satisfactory in the tests. Ta-ta.