Kingfast 32GB Secure Hardware Encrypted USB Flash Drive Review
Before recently, securing a flash drive had a different meaning for me. I often associated it with some sort of encrypting software. Lately, once I discovered Kingfast 32GB Secure Hardware Encrypted, my perception changed because this USB flash drive's main feature is a full on keypad that protects your files and folders. It has some inner security measures like data destroy or data block, but what's eye catching is this different usage of a USB stick. The upsetting part though is that it looks a lot like Aegis Secure Key Encrypted USB Drive.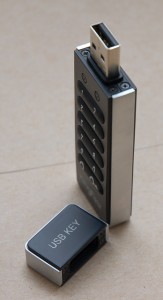 In order to follow my regular topic structure, we first need to talk design. As you might see, on the front side there is the keypad. If you push the unlock button, one of the eleven ones, a series of LED flashes will set off and from then you have six seconds to enter the pass-code. The color this drive has is black and the sides are gray, while the manufactures logo is printed beneath the keypad. I can't say this particular flash drive comes with an impressive design, but, in my point of view, there aren't many things you can do with a USB stick that has this particular features, although my job isn't creating casings for flash memories.
Second on the list is the performance section. The sequential speeds aren't astonishing, the reading one goes as high as 22.70 MB/s and the writing one hits 9.22 MB/s, but you have to keep in mind that the connection is USB 2.0, which, if you ask me, is not suited for this level of security.
I noticed that i haven't yet mentioned the price. It costs 99.99$, which is a lot considering that you're paying more then 80$ for a keypad…