IronKey Workspace W500 (32 GB) Review
Microsoft has recently certified IronKey's Workspace W500 usage of Windows To Go, which is a bootable version of Windows 8. It doesn't matter were you are, with this feature you can carry around and also use your "own computer". Plug in the USB stick in almost every PC/laptop that you can find nearby and there you go, your favourite programs and your most needed files are now available.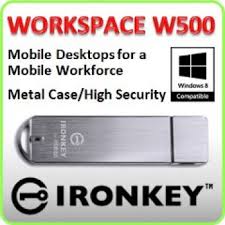 This is an interesting and useful concept, but add incredibly fast writing and reading speed to the equation and the productivity subject starts to get shape. In our tests, IronKey W500, went up to 316 MB/s (writing) and 400 MB/s (reading), which in terms of efficiency mean that you'll get your work done without facing any framing. Unfortunately, this USB stick presents one downside, which scared me when i first noticed it. After 30 minutes of use, the flash drive starts to get hot, really hot, but you have nothing to worry about because it won't fail and will go on like everything is perfect (at least for an hour, i don't know what it will happen next because i thought i might damage my laptop if i kept it in any longer…:D).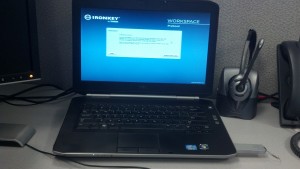 There aren't many words that can be said about the aspect. It looks like any other flash drive, simple and rectangular with a lanyard loop. But the manufactures weren't planning to design an attractive USB stick, they went for a design that can protect the device from dust, physical shock and moisture. That's why the metal exterior and the extremely smooth interior offer the level of protection that the producers were aiming for.
Having said all that, I'll finish this review saying that the necessity of this device is and isn't. For 154$ you get a 32 GB USB stick with a few extra options that are available on any PC/laptop. I don't care if the laptop i am working at hasn't some programs, i can get them, but if you do the go for this flash drive because there isn't a better one on the market.