Corsair Flash Voyager GO 32GB Hybrid USB Flash Drive Review
If i would have known more recently about Corsair Flash Voyager GO 32GB, I would have never bought the hybrid flash drive i now posses. Why so? Because the one i currently have doesn't offer the same sequential speed rates and is not as lightweight, portable and easy to use as this one. I don't want to give any names, but with the one i had it was a bit tricky to transfer files between my android smartphone and my laptop (I had to install a specific program). Well with Flash Voyager GO things just got a bit more easier, considering you don't have to download any sort of an app in order to successfully copy documents from a device to another.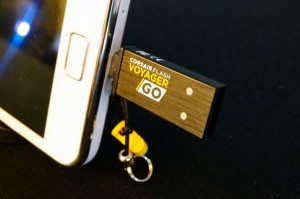 For 29,99$ i got one of the best available storage devices. Measuring only 1.46″ x 0.48″ x 0.18″ and weighting 3 grams, this particular USB drive has the manufactures logo printed on the topside and also on the down one. It comes with two caps (a yellow one and a black one) that protect the micro-USB connector (positioned at the left side as you look at the first picture) and at the back of the drive you find the USB 3.0 port. This product, as well as all other flash drives, presents itself with a lanyard which allows you to attach the stick to your key-chain and other things that can have a USB storage device attached.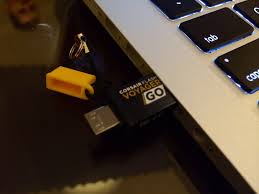 We all know that the design section is not as decisive as the performance one. ADATA DashDrive UD320 OTG and Leef Bridge follow this idea, but none of them do it as well as Corsair Flash Voyager Go does. That being said, I'm happy to say the reading speed goes up to 156,3 Mb/s and the writing one stops at 21,61 Mb/s.
If you're wondering, you're paying 1,06$ per gigabyte and that should be something you consider when buying a hybrid flash drive, especially when PhotoFast i-FlashDrive has a rate of 10,62 $ per Gb and extremely low performances…