Verbatim Store 'n' Go Review
This Verbatim flash drive is exactly what it claims to be: a store 'n' go device. Unpretentious, simple, the only thing that changes is the colour or size.
You can have it in red, green or blue depending on the size you pick, which also varies : 2 GB, 4 GB, 8 GB, 16 GB, 32 GB. And… that's pretty much it. No encryption software whatsoever, no software of any kind, as a matter of fact.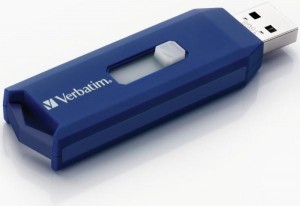 It also lacks a full enclosing lid and an indicator light. This one has nothing but storage space and a USB connector ( a 2.o USB connector, that is ) so you can dump files on it and store them there.  There are no things to make your life easier with the store and go, just a plain old pack mule, as you like it.
It doesn't have any features to make it stand out whatsoever, it can be attached to a keychain just like most other drives, it can be used to store information. Oh, and the 2 GB version is marketed in a three bundle with 3 different colours.
The only good thing about it seems to be the lifetime warranty and the fact that you can get email support during this warranty. Whatever in the world you would need that for…