ADATA DashDrive Durable UD311 32GB USB 3.0 Flash Drive Review
A while ago, ADATA launched an extremely small flash drive that looks like a blue sapphire. It's called DashDrive Durable UD311 and the model i tested had a storage capacity of 32 GB. I already said this particular USB stick has small dimensions. What i haven't said is that it's extremely light, feature, which combined with the size of UD311, can lead to the  immediate loss of the drive. Another conn is the low reading and writing sequentials, which will be discussed later…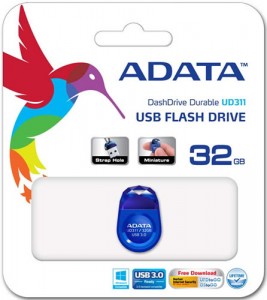 If you ignore the measures of ADATA's model, the exterior is the main and only advantage, but don't think the dimensions are a pro. As i said in the beginning, the drive looks like a jewel, which is intriguing, but not asked for… The companies logo, the model, the storage capacity and the interface are printed on the front and, as you can see, UD311 uses a cap to protect the connector, connector that has a small loop, which its main purpose is to prevent the product from losing, unfortunately, it's more than it can handle.
Good things can't be said about performance either. The reading speed is suited for a 3.0 interface flash drive, 85 MB/s, but, out of respect for other ADATA USB sticks, i won't mention the writing one, i'll just say that 2.0 connectors are doing better at this chapter.
You might get the point… Don't buy it!