MX Technology LX 256GB USB 3.0 Flash Drive Review
A little while ago, i made a review to the newly launched MX Technology ES 64GB. At the same time MX Technology LX 256 GB was launched…i know, it took me a while to test this flash drive

, and from what i was able to observe, this particular model manages to impress trough its capacity of saving up your time (you'll see in the third paragraph why, the second one being dedicated to the design). What it won't save though is your money because it costs $169.99, which is not much considering the storage space that this USB stick offers.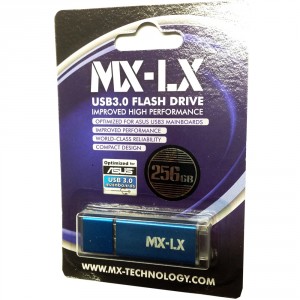 As you can see in the both pictures the color of the drive is blue and the companies brand and model are printed in white. MX-LX has an aluminum casing, a cap that protects the 3.0 connector and a blue LED at the back of the drive where you can also find a way to easily attach the drive to a key-chain. The design is not very fancy, MX Technology choosing to go with simplicity and refinement.
The third paragraph is about performance, which is the best i have yet seen. The reading speed hit an astonishing 211.8 MB/s and the writing one managed to score a remarkably 156.9 MB/s.
One last thing you need to know before i finish, this 3.0 USB flash drive is the best available one.