Kingston HyperX Max 3.0 Review
This one isn't a pendrive, it's a flash drive. This baby from Kingston is actually a modified SSDNow V+100 Solid State Drive. What they did was basically add a second PCB having a USB 3.0 bridge. Also, it only has a mini USB  port where you could plug your data chord. This makes it absolutely awesome, way above most pendrives on the market. Due to its nature, it also comes with high-end controller that adds a 128MB of RAM and that will prevent it from slugging when it comes to read/write. It has a slick impressive design, making up for portability issues the required chord might bring. The only downside to it would be that the price is close to $300. Of course, it is more than reasonable for what it offers but it is still very expensive considering today's market, and even more so if you don't use it professionally.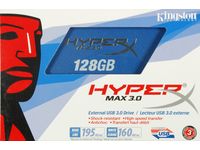 At any rate,  Crystal DiskMark tests reveal this to be close to the Super Talent Supercrypt in read tests, having 16 mb in 4k  read and 198 mb in sequential which is good for a USB 3.0. In write, given the fact that its a solid state drive it fares far better than most pendrives, with 48 mb in 4k write and 164 mb sequential.
All I can say is if $300 is not out of your budget, buy this. You won't need anything else.