Kingmax Pop Series
So, a device which is USB  3.0 is not what you'd call top notch . Firstly, it has a poor design and I had to run the test several times, since there seemed to be a lot of connection issues. Now, I know it's not my port since I tested several other drives consequently and they seemed to work seemlessly ( that excludes poor performance ).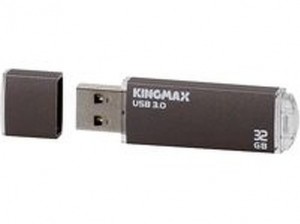 At any rate, it seems to perform very good with a read of 93 mbps and a write of  22 mbps. It seems to be quite above average, but that doesn't excuse other discrepancies which I've found to be quite annoying.
You can attach it to your keychain as well, and it feels pretty sturdy. The build is quite ok, it seems pretty dense and it won't break easily, the cap is detachable and you don't really have to worry about it getting dust or any other particles inside.
All in all, it's reasonably good in terms of speed and design, but it's quite unreliable and priced at almost $40 for the 32 GB version, which is quite steep come to think of it. But, then again, you must always know you're paying for the brand , not necessarily for the quality of the product. Bigguns can fail also.