CustomUSB Gigs 2 Go USB Flash Drive Review
The product I'm reviewing today is a little out of the ordinary. In what way? Well, forget about having to share files through e-mail or any other type of website which allows you to do so. CustomUSB Gigs 2 Go is a pack of four USB flash drives, built so that you don't have to complicate yourself with one or more of the methods I've mentioned. Just tear one USB stick off, fill it with 1 GB of documents and hand it over to whoever you please. Another interesting thing about this product, besides it being cheap ($24.95), is that it's made out of recycled materials and it also is biodegradable.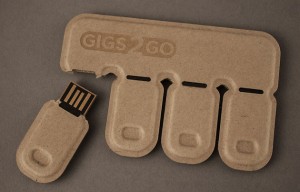 The four-pack measures 0.15 x 3.5 x 2.2 inches (HWD) and weights 0.32 ounce. The casing is made out of a recycled paper pulp, which was after molded in cardboard tabs. Thanks to the material it's made of you can easily label the four flash drives. The cap-less design shouldn't raise you any question marks because it's an on-chip storage device, so damaging or getting it wet shouldn't be a concern. In other words, the design may look delicate when in fact it's pretty resistive.
The performance was a hard thing to test. Being an 1 GB flash drive, CustomUSB Gigs 2 Go wasn't able to support our regular tests. What we could do though was copy different relatively small files to the drive. It didn't act like Lexar Jumpdrive S73, but it also didn't make me wait a lot for it to finish the process.
In order to wrap up, I'll say just one thing, BUY IT, you don't know when you'll need something with this features, which is also affordable.