Adata DashDrive UV150 Review
This Adata drive is particularly wrong. Starting with the bright red exterior. And it only comes in red and black. That's neither cute, nor cool. It's just wrong. It starts to look like a melon's insides the moment you look at it, and it isn't a pretty sight, let me tell you.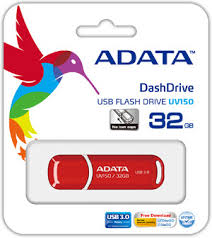 But let us move forward, to this 32 GB version I tried. It does come in 8GB, 16GB and 32 GB variety, however all but the 16 GB are average for their class. And the 16 GB is the class dunce, at that.  It performs bellow averae with a 50 mbps write and 20 mbps read and that's not even the worse part. It behaves below average in the random read test as well, and also ( I cannot overstated this! ) - it's bright red.
Seeing  how this falls under ( literally ) each category, they are overpriced as well. They are actually cheaper than most on the market, yes, but they offer no services whatsoever to justify the said price. It is never a good idea to place an average product on an overmarket price in a segment for educated buyers.
You could buy this, yes. Only if you're in a hurry and have no other way to store your data. Ta-ta. C.