Toshiba TransMemory Pro USB 3.0 Flash Drive
Seems that the future of lightning speed transfers is near, just around the corner. Toshiba recently announced their new kid TransMemory PRO 3.0. If you're tired with slow USB transfers, this might be a good news for you (of course, you will need to have at least one USB 3.0 port available for this).
Toshiba rates read and write speeds at up to 222MB/s and 205MB/s, respectively, which is pretty impressive, don't you think ?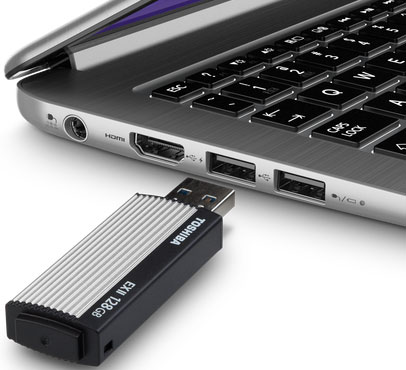 Well, that's not the fastest rating for a USB 3.0, even if we didn't had a chance to play with one yet. Toshiba will offer this drive in two flavors 64GB and 128GB.
Another good thing is that the flash drive TransMemory PRO will come with built-in EX II Pad Locker security software and of course, encrypted password protection for your peace of mind. With this utility you will be able to create your very own public and private partitions.
As for the price the 64GB and 128GB will be available this month for $130 (64GB) and $200 (128GB) MSRP. Personally I can't wait to put my hands on one of these and do a lot of tests.