SanDisk Extreme USB 3.0 64GB Review
Extreme USB 3.0 is SanDisk's prize for their high-end customers. It comes packing a incredibly fast performance and a great storage capacity. You would be tempted to say that almost every flash drive on the market has the same features and it's true, but this one is quite special. Besides the stylish and portable design, you get a lifetime warranty and  SanDisk SecureAccess software which offers password protection.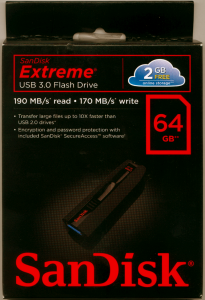 As you can see in the image, they set the writing speed at 170 MB/s and the reading one at 190 MB/s. Surprisingly, they lied, in a good way although. In our test the reading speed went up to 197 MB/s and the writing one to 188 MB/s. It's a small difference which gives you a certain feeling, a good feeling that is related to finally having a product that can do more then what it's supposed to.
There aren't many words that can be said about the design. It doesn't present any innovation in the appearance section. It's simple and that simplicity make this model slim, stylish and functional.
This USB drive sells for 60.99$ on Amazon and it's worth every penny. It's true that for a USB stick is quite expensive and you probably won't have what to do with the 64 GB of memory ( 59.5 GB of free space), but considering that everything is going to become bigger and bigger ( in terms of size), I'd say that this is a pretty good investment