Patriot Element USB 3.0
So, here's another one from Patriot: the Element sounds pretty fancy. It is a USB 3.0 drive so we're off to a good start. Scratch that, we're not. This one can't work on a USB 3.0 slot without sneezing and coughing. I don't know why, I didn't open it up to find out what's wrong with it ( maybe I got a damaged one or something ), however it worked perfectly fine on a USB 2.0 slot.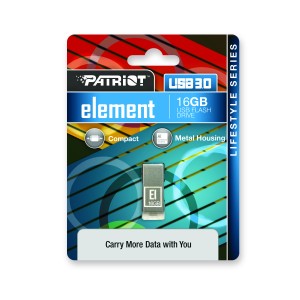 That is, if you consider 34 read/ 11 write sequential perfectly fine on a drive which is supposed to be USB 3.0 but only works on a USB 2.0. Oh, how they failed with this one. But they won't mention this on the package, worry not. Like any other horribly insecure flash drive, this one hasn't got the speed ratings Patriot believes it behaves at on the package. Surprised?
Anyway, it looks nice and it's made of aluminium. It has a two year warranty ( does the warranty cover me chewing it up in a feat of rage, when it takes about 3 hours to copy anything of relevance to the drive ? ) which is pretty good. But, considering that other drives have 5 or lifetime warranty… heh. Surprised?