Linux Bootable USB fast and easy with UNetbootin
UNetbootin is a small program (5MB) which can be downloaded freely from here. When you start this program you are able to create a bootable live usb drive. Current version has a built-in support to download the following distribution:
Ubuntu
Debian
Linux Mint
OpenSUSE
Arch Linux
Damn Small Linux
SliTaz
Puppy Linux
gNewSense
FreeBSD
NetBSD
Fedora
PCLinuxOS
Sabayon Linux
Gentoo
MEPIS
Zenwalk
Slax
Dreamlinux
Elive
CentOS
Mandriva
LinuxConsole
Frugalware Linux
xPUD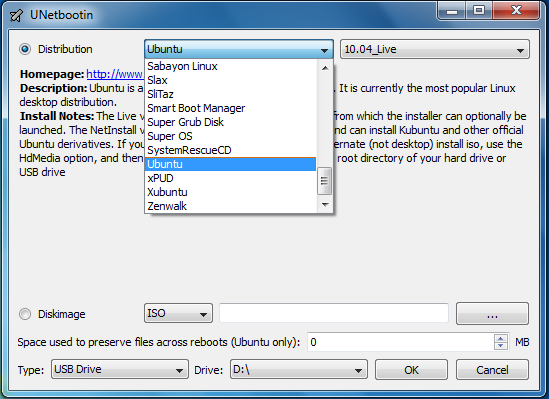 As you can see, you can select various Linux distribution to download and install. This software do almost anything else for you. You can select a previously downloaded linux diskimage to be used instead of downloading new one.
Select distribution image
Select version of the previously selected distribution
Select the type of install (USB Drive or Hard Disk)
If necessary, select the drive.
Press OK.
After a couple of minutes, the install will finish and you can start use your newly created linux bootable drive.