Lexar JumpDrive S23 Review
This JumpDrive seems to be quite good in terms of speed.
It has ok read/ write, with 100 mbps and 30 mbps. However, its true power is revealed in the 4k random write tests, where it scores as high 1.1 read/write. That is real potential right there, especially since it seems activities like transfering pictures are becoming quite popular with the advent of the digital camera. It's a daring move, though, to concentrate on random write rather than sequential, since flash drives are still being used for rather large files .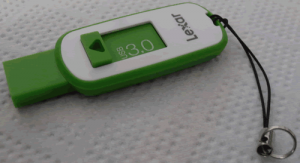 It doesn't have a particularly intriguing design, it's just unnerving because it seems quite small and it has bright colours. Also, it has a sliding lid which does not enclose the entire drive, therefore making it prone to environmental damage of all sorts.
In terms of price, it's really good, with a 16 GB version going as low as $15.
It really takes the cake : low price, high value and accesibility.  The only thing which strikes as " not kewl " is the design. It's as close to the size of a quarter as it gets. Not something I would buy for aesthetics though. Just plain functionality. Good thing they made a black version also, or I never would have bought one just because of the design.
Cheers.