Imation Swivel Review
Here's one with a bit of edge to it :  the Imation Swivel ( with a name leading to the age old swivel connection ) promises to keep your data stored for 10 years and safe with a password to protect it for about the same time.
It seems really nice, with that classic swivel cap design and it comes in 6 size : the 2 GB, the 4 GB, the 8 GB, the 16 GB, the 32 GB and the 64 GB.
Sadly, this one isn't USB 3.0 either. We deal with yet another 2.0 which is backwards compatible and, I might add with sorrow,   this leads to a sad trend in which the manufacturers seem to have forgotten that they need to move with the times, which impedes us from making swift progress.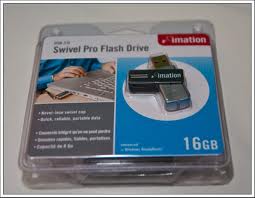 At any rate, the drive comes with its own Disk Manager software, which adds cool features such as partitioning your drive or password protecting certain areas on it should you choose to lend it to people. However, this software is not MAC or Linux compatible. No matter, though. Too few individual users use those anyway and there really wouldn't be a point in wasting time for the development of such a bridge.
This being said, the Swivel can share files on machines running just about any OS known to man.
And now, the interesting conclusion : buy it, if you need a drive.